Our product engineering services encompass the entire product development lifecycle: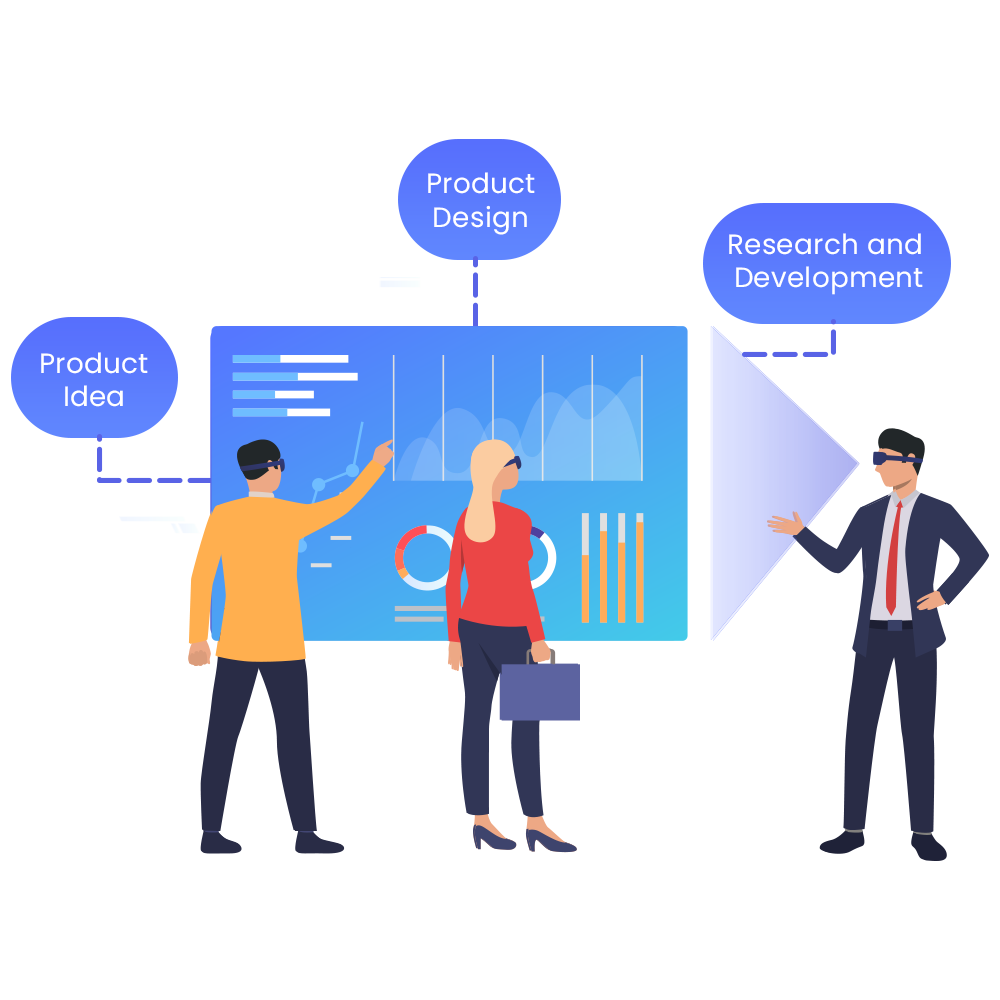 Visualization Services at Tek Wings:
At Tek Wings, our visualization services are a pivotal step in the journey of turning your product ideas into tangible realities. Our approach is a multifaceted one that encompasses various crucial aspects:
Product Idea: Collaborating closely with you, we conceptualize innovative product ideas that align with your business objectives. We help refine and crystallize these concepts, ensuring they are visionary and poised to make a significant impact in the market.
Research and Development: Validation is paramount in transforming ideas into successful products. Our team conducts meticulous research and development, delving deep into feasibility studies, in-depth analysis, and prototyping to validate the potential of your product concepts. This step ensures that your ideas are not only viable but also optimized for efficiency, scalability, and market relevance.
Product Design: Creating user-friendly and functional products is the cornerstone of our visualization services. We focus on crafting designs that seamlessly blend aesthetics and functionality. Our approach integrates your branding, user expectations, and industry best practices to ensure the final product offers an intuitive and satisfying user experience.
Creation Services at Tek Wings:
Once your vision is crystalized, Tek Wings steps in to transform it into a tangible product, ensuring every step is executed with precision:
Product Development: Our team efficiently develops your product, turning your ideas into reality. We focus on efficiency, quality, and timely delivery to meet your project goals.
QA and Testing: Rigorous quality assurance and testing are integral to our process. We conduct exhaustive testing to ensure the reliability, functionality, and security of your product. Our commitment to quality minimizes risks and enhances user satisfaction.
Implementation: Effective implementation is crucial for a seamless product launch. We ensure that your product is deployed efficiently and integrated seamlessly into your existing infrastructure. Our implementation process is designed to minimize disruption and maximize impact.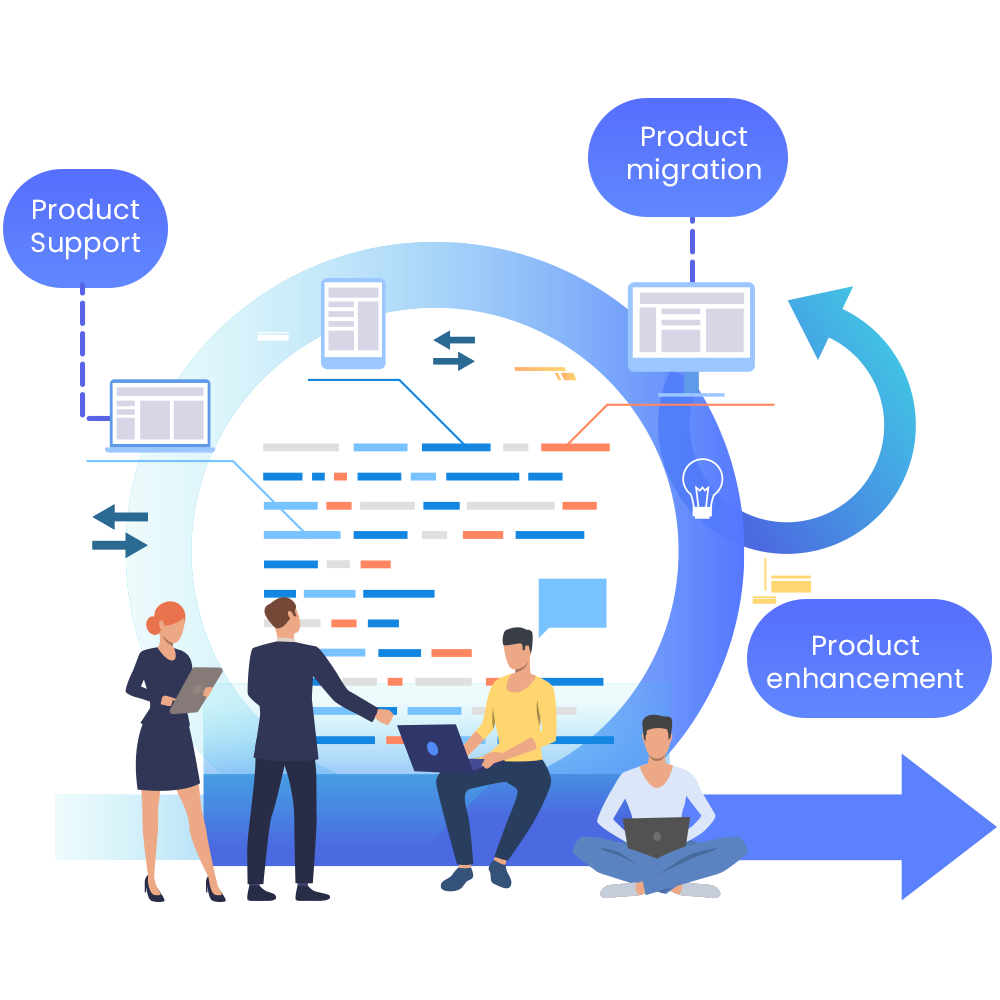 Product Support Services at Tek Wings:
Our commitment to your product's success extends beyond its creation. Tek Wings offers a comprehensive suite of services to ensure your product continues to thrive:
Product Support: We provide continuous maintenance and updates, ensuring your product delivers a seamless experience to users. Regular maintenance keeps your product secure, bug-free, and up-to-date with the latest features.
Product Enhancement: To stay competitive in a rapidly evolving market, we offer continuous improvements and additions to your product. Our enhancement services keep your product aligned with industry trends and customer expectations.
Product Migration: As technology advances, we help you efficiently transition your product to newer technologies, enhancing its performance and scalability. Our migration services ensure your product remains at the cutting edge of technology.
Product Research and Development.
Quality Assurance and Testing.
Software Product Design and Architecture.
Software Product Development Lifecycle.
Software Product Development.
Software Product Enhancement.
Product Implementation.
Software Product Migration.
Support and Maintenance.
Product Development Approach At Tekwings
Assured Return on Investment: We prioritize delivering value to ensure your investment yields profitable returns, aligning our efforts with your business goals.
Faster Development Cycle: Our streamlined processes and agile methodologies enable us to accelerate the development cycle, getting your product to market swiftly.
Increased Development Productivity: Leveraging cutting-edge tools and practices, we enhance productivity, ensuring optimal resource utilization and project efficiency.
Low Development Costs: Our cost-effective solutions minimize development expenses, allowing you to allocate resources strategically and maximize ROI.
Reduced Time to Market: With a focus on efficiency and agility, we reduce time-to-market, giving you a competitive edge and seizing market opportunities promptly.
Quality Software Products: Quality is at the core of our approach. We maintain stringent quality standards throughout development to deliver reliable, high-performance software products.